Mission information
Name

GRIFEX

Satellite ID

LKOZ-5067-6870-4427-8883

NORAD ID

40379

Country of Origin

United States of America
Status
Operational
Satellite is in orbit and operational
Image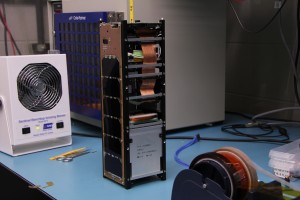 Mission timeline
Launch Date

2015-01-31T00:00:00+00:00
Description
The GRIFEX (GEO-CAPE ROIC In-Flight Performance Experiment) is a 3U CubeSat that will perform engineering assessment of a JPL-developed all digital in-pixel high frame rate Read-Out Integrated Circuit (ROIC).
Its high throughput capacity will enable the proposed GEO-CAPE (Geostationary Coastal and Air Pollution Events) mission concept to make hourly high spatial and spectral resolution measurements of rapidly changing atmospheric chemistry and pollution with the Panchromatic Fourier Transform Spectrometer (PanFTS) instrument in development.
This technology validation mission, sponsored by NASA's Earth Science Technology Office, will advance the technology required for the future spaceborne measurements of atmospheric composition from GEO, relevant to climate change, as well as future missions that require advanced detectors in support of the Earth Science Decadal Survey.
Type

Transmitter

Service

Amateur

Downlink Mode

FSK

Downlink Frequency

437485000

Downlink Drifted

-11429

Baud

9600
Most Recent Observers
| Observer | Latest Data |
| --- | --- |
| OE6ISP_1-JN77pa | 2022-07-03 05:21:44 UTC |
| USU GAS Yagi Az+El-DN41cr | 2022-07-03 04:18:28 UTC |
| W7KKE-CN75xa | 2022-07-03 04:16:57 UTC |
| Vi3w Roy4l-CN88gk | 2022-07-03 04:13:24 UTC |
| VA6RPI Alberta Canada.-DO34uv | 2022-07-03 04:11:58 UTC |
Data Frames Decoded - 30 Days
There is no decoded data for this satellite in the last 30 days.
Decoder: GRIFEX Telemetry
Script Name

mxl
Decoder Fields
Orbital Elements
Latest Two-Line Element (TLE)
TLE Source

Space-Track.org
TLE Set

1 40379U 15003D   22183.56001379  .00006135  00000-0  21755-3 0  9997
2 40379  99.1101  37.8119 0115373  17.1603 343.3478 15.23446270409923
No Satellite Suggestions Found