Mission information
Name

CICERO 7

Alternate Names

Tyvak 0085

Satellite ID

CDFL-8750-0446-4717-2882

NORAD ID

43143

Countries of Origin

Monaco

United States of America
Status
Decayed
Satellite has re-entered
Image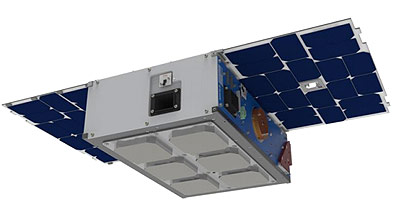 Mission timeline
Launch Date

2018-01-12T00:00:00+00:00

Decay Date

2023-11-14T00:00:00+00:00
Description
CICERO (Community Initiative for Cellular Earth Remote Observation) is a constellation of 24+low-Earth Orbiting (LEO) micro-satellites for performing GPS and Galileo radio occultation (GNSS-RO) of Earth's atmosphere and surface remote sensing by GNSS reflection. They are operated by GeoOptics.
Type

Transmitter

Downlink Mode

GMSK

Downlink Frequency

401200000

Baud

9600
Most Recent Observers
No observations recorded for CICERO 7
Data Frames Decoded - 30 Days
There is no decoded data for this satellite in the last 30 days.
No Decoders Found
Help us develop a decoder, you can find instructions at this wiki link
No Satellite Suggestions Found