Mission information
Name

NANOVA

Alternate Names

Commtrail TYVAK-0092

Satellite ID

CPZL-6566-3229-0017-8907

NORAD ID

44852

Country of Origin

Israel
Status
Operational
Satellite is in orbit and operational
Image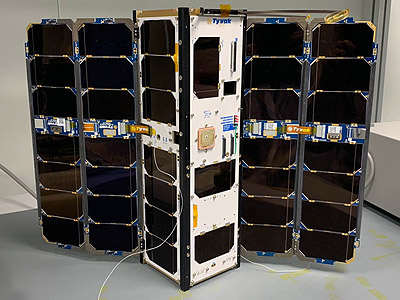 Mission timeline
Launch Date

2019-12-11T00:00:00+00:00
Description
NANOVA, also known by the manufacturers designation Tyvak 0092, is a 3U CubeSat designed by Tyvak with its commercial partner Elbit to demonstrate Search & Rescue capabilities for the COMMTRAILS program. NANOVA is a machine-to-machine communication demonstration and validation vehicle, designed to acquire signals from Ground Terminals and downlink to Ground Stations. Its payload is a UHF software defined radio (SDR) equipped with a customized deployable helix antenna.
Type

Transmitter

Downlink Mode

FM

Downlink Frequency

401880000
Most Recent Observers
No observations recorded for NANOVA
Data Frames Decoded - 30 Days
There is no decoded data for this satellite in the last 30 days.
No Decoders Found
Help us develop a decoder, you can find instructions at this wiki link
Orbital Elements
Warning: There is at least one newer non-redestributable TLE set.
Latest Two-Line Element (TLE)
TLE Source

Celestrak (active)
TLE Updated

2023-12-03 21:10:55 UTC
TLE Set

1 44852U 19089A   23337.51930574  .00028544  00000+0  12928-2 0  9998
2 44852  36.9566 127.9634 0007623 351.4183   8.6434 15.20037305218670
No Satellite Suggestions Found