Mission information
Name

CARTOSAT-2D

Satellite ID

GTOO-9256-7621-8163-6435

NORAD ID

41948
Status
Operational
Satellite is in orbit and operational
Image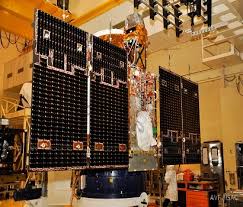 Description
CartoSat 2D is the fifth in India's second generation of CartoSat Earth Observation craft tasked with the generation of high-resolution imagery, employing a high-degree of agility on the satellites to support event monitoring with high revisit times.
The CartoSat-2D launch follows up on the CartoSat-2C mission that launched in June 2016 and is a nearly identical copy of the 2C satellite, carrying the same instruments and operating from a similar orbit. Previous CartoSat missions used a Sun Synchronous Orbit 640 Kilometers in altitude while the newer ones fly at 505 Kilometers in order to increase the resolution of the panchromatic and multispectral cameras aboard the satellites.
Type

Transmitter

Downlink Mode

CW

Downlink Frequency

2245687000

Downlink Drifted

-4983
Most Recent Observers
No observations recorded for CARTOSAT-2D
Data Frames Decoded - 30 Days
There is no decoded data for this satellite in the last 30 days.
No Decoders Found
Help us develop a decoder, you can find instructions at this wiki link
Orbital Elements
Latest Two-Line Element (TLE)
TLE Source

Celestrak (SatNOGS)
TLE Set

1 41948U 17008A   21270.43331518  .00001099  00000-0  55330-4 0  9991
2 41948  97.4311 329.1949 0007851 155.6135 204.5482 15.19246291255868
No Satellite Suggestions Found