Mission information
Name

QB50P2

Alternate Names

EO 80, European-OSCAR 80, EO-80

Satellite ID

HHWQ-8145-7306-2252-6043

NORAD ID

40032
Status
Operational
Satellite is in orbit and operational
Image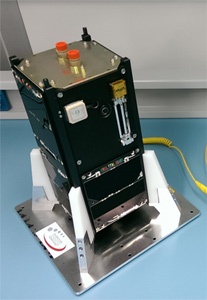 Description
A 2U cubesat and the pair of QB50P1. it carries an Ion and neutral mass spectrometer to make earth observations.
Type

Transmitter

Downlink Mode

CW

Downlink Frequency

145880000

Baud

15
Type

Transmitter

Downlink Mode

BPSK

Downlink Frequency

145878740

Baud

1200
Most Recent Observers
| Observer | Latest Data |
| --- | --- |
| Rainer-JO71ia | 2016-03-24 10:18:00 UTC |
Data Frames Decoded - 30 Days
There is no decoded data for this satellite in the last 30 days.
No Decoders Found
Help us develop a decoder, you can find instructions at this wiki link
Orbital Elements
Warning: There is at least one newer non-redestributable TLE set.
Latest Two-Line Element (TLE)
TLE Source

Space-Track.org
TLE Updated

2023-02-02 08:06:32 UTC
TLE Set

1 40032U 14033Y   23033.08247213  .00003692  00000-0  37573-3 0  9996
2 40032  97.9567 332.1733 0011907  27.2179 332.9660 14.91326557468349
No Satellite Suggestions Found