Mission information
Name

EIRSAT-1

Satellite ID

HKNJ-5808-9467-1239-6592

Temporary NORAD ID

99320

Followed NORAD ID

None

Website

Country of Origin

Ireland
Status
Future
Satellite is not yet in orbit
Image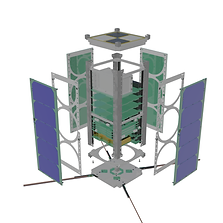 Description
EIRSAT-1 is the Educational Irish Research Satellite 1. A team of students in University College Dublin and academic staff is designing, building and will operate Ireland's first satellite. It is a 2U CubeSat being developed as part of the European Space Agency's Fly Your Satellite programme.
The EIRSAT-1 project is carried out with the support of the Education Office of the European Space Agency, under the educational Fly your Satellite! Programme.
Type

Transmitter

Service

Amateur

Downlink Mode

GMSK

Downlink Frequency

437100000

Baud

9600

IARU Coordination
Most Recent Observers
| Observer | Latest Data |
| --- | --- |
| PE0SAT-JO21mr | 2022-12-02 01:11:19 UTC |
Data Frames Decoded - 30 Days
There is no decoded data for this satellite in the last 30 days.
No Decoders Found
Help us develop a decoder, you can find instructions at this wiki link
No Satellite Suggestions Found