Mission information
Name

GHALIB

Satellite ID

IDJN-1803-0298-3518-0385

NORAD ID

48962

Country of Origin

United Arab Emirates
Status
Operational
Satellite is in orbit and operational
Image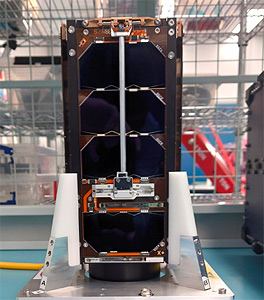 Mission timeline
Launch Date

2021-06-30T00:00:00+00:00
Description
Ghalib is a demonstrator turn-key mission for space-based tracking of falcon migration. From feasibility study to designing and building a nanosatellite that is capable of tracking migrating falcons, ISISPACE built the 2U CubeSat platform and integrated the payload. The payload consists of a radio receiver, manufactured by Marshall Intech, and a camera to take pictures of the Earth on demand.
Type

Transmitter

Downlink Mode

FM

Downlink Frequency

401175200
Most Recent Observers
| Observer | Latest Data |
| --- | --- |
| SP7THR-UHF-KO10an | 2022-07-02 13:27:58 UTC |
Data Frames Decoded - 30 Days
There is no decoded data for this satellite in the last 30 days.
No Decoders Found
Help us develop a decoder, you can find instructions at this wiki link
Orbital Elements
Latest Two-Line Element (TLE)
TLE Source

Celestrak (active)
TLE Set

1 48962U 21059CM  22183.86621691  .00003248  00000+0  17033-3 0  9994
2 48962  97.5545 313.7794 0009562  56.4509 303.7635 15.16451295 56301
No Satellite Suggestions Found