Mission information
Name

FORTE

Alternate Names

Fast On-orbit Rapid Recording of Transient Events

Satellite ID

JSVB-5618-9837-5426-1381

NORAD ID

24920

Country of Origin

United States of America
Status
Operational
Satellite is in orbit and operational
Image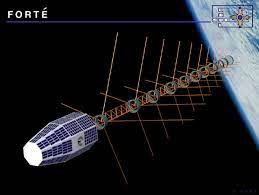 Description
FORTE is a US DOE-sponsored (Department of Energy) spacecraft designed and built by the Los Alamos National Laboratory (LANL) and by Sandia National Laboratories (SNL). The spacecraft features an advanced radio frequency (RF) impulse detection and characterization experiment. The prime objective is the measurement of electromagnetic pulses (EMP), primarily due to lightning, within a noise environment dominated by continuous wave (CW) carriers, such as TV and FM stations.
Type

Transmitter

Downlink Mode

CW

Downlink Frequency

401568000
Type

Transmitter

Downlink Mode

BPSK

Downlink Frequency

401565000

Baud

1024
Most Recent Observers
| Observer | Latest Data |
| --- | --- |
| kc1fha-FN42fu | 2023-05-10 18:16:05 UTC |
Data Frames Decoded - 30 Days
There is no decoded data for this satellite in the last 30 days.
No Decoders Found
Help us develop a decoder, you can find instructions at this wiki link
Orbital Elements
Latest Two-Line Element (TLE)
TLE Source

Space-Track.org
TLE Updated

2023-05-30 05:12:48 UTC
TLE Set

1 24920U 97047A   23149.89057671  .00000189  00000-0  10146-3 0  9999
2 24920  69.9550   8.6477 0022776 349.5736  10.4909 14.26786150339677
Name

FORTE

NORAD ID

24920

Alternative Names

P94-1, Fast On-orbit Rapid Recording of Transient Events

Description

FORTE is a US DOE-sponsored (Department of Energy) spacecraft designed and built by the Los Alamos National Laboratory (LANL) and by Sandia National Laboratories (SNL). The spacecraft features an advanced radio frequency (RF) impulse detection and characterization experiment. The prime objective is the measurement of electromagnetic pulses (EMP), primarily due to lightning, within a noise environment dominated by continuous wave (CW) carriers, such as TV and FM stations.

image

status

alive

countries

launched

Aug. 29, 1997, midnight