Mission information
Name

UNIBRITE

Alternate Names

CANX-3A

Satellite ID

JVIG-3362-0807-4026-2397

NORAD ID

39092
Status
Operational
Satellite is in orbit and operational
Image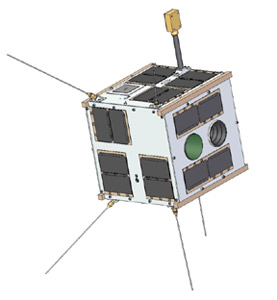 Description
BRIght-star Target Explorer is an astronomy mission that makes photometric observations of some of the brightest stars.
No approved transmitters yet for this Satellite. Help us improve our database, you can find instructions at this wiki link
Most Recent Observers
No observations recorded for UNIBRITE
Data Frames Decoded - 30 Days
There is no decoded data for this satellite in the last 30 days.
No Decoders Found
Help us develop a decoder, you can find instructions at this wiki link
Orbital Elements
Latest Two-Line Element (TLE)
TLE Source

Space-Track.org
TLE Set

1 39092U 13009G   22025.16862119  .00000059  00000-0  35495-4 0  9995
2 39092  98.4147 225.8532 0009089 347.2526  12.8429 14.35095153466840
No Satellite Suggestions Found