Mission information
Name

CAPE-3

Satellite ID

KCVQ-5243-0306-5795-8893

NORAD ID

47309

Website

Country of Origin

United States of America
Status
Operational
Satellite is in orbit and operational
Image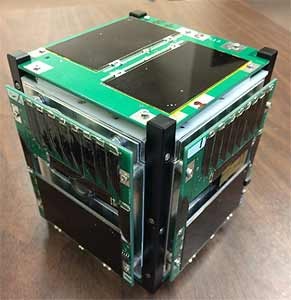 Mission timeline
Launch Date

2021-01-17T19:18:30+00:00

Deploy Date

2021-01-17T19:18:32+00:00
Description
CAPE-3 (Cajun Advanced Picosat Experiment 3) is the third satellite developed at the University of Louisiana at Lafayette.
The Cajun Advanced Picosatellite Experiment (CAPE-3) is an educational mission that will fly the Smartphone CubeSat Classroom, which allows anyone with a smartphone to set up a ground station with a kit. Interactive educational activities will give students the ability to interact with the CubeSat via an app on their smartphone and use their smartphone to design their own CubeSat experiments.
CAPE-3 is a 1U CubeSat. It was selected in February 2016 by NASA's CubeSat Launch Initiative (CSLI).
Most Recent Observers
| Observer | Latest Data |
| --- | --- |
| SA2KNG Experimental-KP03cu | 2023-12-11 05:50:02 UTC |
| EI0RSI - Radio Scouting Ireland-IO63pp | 2023-12-11 04:10:45 UTC |
| EU1AEM-KO33nv | 2023-12-11 02:39:37 UTC |
| N5ZKK-UHF-HELICAL-EM00kb | 2023-12-10 09:41:06 UTC |
| EU1XX-KO33ru | 2023-12-10 02:11:15 UTC |
Data Frames Decoded - 30 Days
There is no decoded data for this satellite in the last 30 days.
No Decoders Found
Help us develop a decoder, you can find instructions at this wiki link
Orbital Elements
Warning: There is at least one newer non-redestributable TLE set.
Latest Two-Line Element (TLE)
TLE Source

Celestrak (SatNOGS)
TLE Updated

2023-12-11 05:11:49 UTC
TLE Set

1 47309U 21002A   23344.84297828  .00085078  00000+0  82520-3 0  9999
2 47309  60.6679  89.1432 0024975  38.5160 321.7723 15.65416563161674
No Satellite Suggestions Found