Mission information
Name

GREENCUBE

Alternate Names

IO-117

Satellite ID

KGEF-8685-2681-9687-2264

NORAD ID

53106

Website

Operator

Country of Origin

Italy
Status
Operational
Satellite is in orbit and operational
Image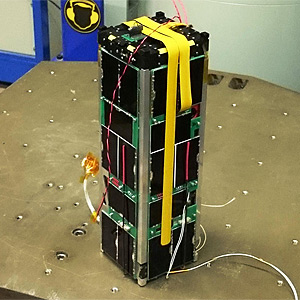 Description
An ESA mission is exploring the potential of space farming that could help food supply for future manned space missions. The prototype has been developed by ENEA, a biotechnology Italian laboratory, as part of its mission of transferring the results of scientific research to industry and public administrations with a sustainable economic development approach.
The micro-garden measures 30 x 10 x 10 cm and it is based on a closed-cycle hydroponic system guaranteeing a complete 20-day testing growth cycle of micro-vegetables, adequately selected from those best suited to withstand extreme extra-terrestrial conditions. Placed in a pressurized and confined environment, the micro-vegetable garden GREENCUBE, equipped with an integrated hi-tech sensor system for controlling environmental parameters, growth and health of plants, is designed to transmit to Earth, in complete autonomy, all the information acquired. It is mainly inspected about the responses of plants to extreme conditions.
The satellite carrying the garden is constituted by two main parts: one unit dedicated for an effective garden, plants, nutrients and sensors; while the other one will be occupied by the spacecraft management and control platforms necessary to the mission operative in-orbit. This satellite enables new data acquisition about the possibility of literally farming in space. This study could represent the basis for future possible development of much bigger cultivation at zero gravity supporting human explorations with a green touch. For example it could represent a turning point for deep space human future missions, like Mars exploration programs, in this case an own food production could mean a significant saving in mission stocks. An indirect possible goal of such a mission is the study of the possible advantages of a space farming and vegetable species answer to such a new environment.
Most Recent Observers
| Observer | Latest Data |
| --- | --- |
| 2E0TOL-JO01fm | 2023-12-03 22:28:06 UTC |
| IZ6WLW-JN62pb | 2023-12-03 22:05:45 UTC |
| EA1JK-IN83cm | 2023-12-03 22:03:56 UTC |
| SA2KNG Omni UHF/VHF-KP03cu | 2023-12-03 21:58:08 UTC |
| Piszkesteto UHF-JN97ww | 2023-12-03 21:54:30 UTC |
Data Frames Decoded - 30 Days
There is no decoded data for this satellite in the last 30 days.
Decoder: GreenCube Telemetry
Script Name

greencube
Decoder Fields
Orbital Elements
Latest Two-Line Element (TLE)
TLE Source

Space-Track.org
TLE Updated

2023-11-28 19:30:20 UTC
TLE Set

1 53106U 22080B   23332.09968023 -.00000003  00000-0  00000-0 0  9991
2 53106  70.1436 262.7414 0008227 151.4978 208.6132  6.42557248 32288
No Satellite Suggestions Found