Mission information
Name

ODIN

Satellite ID

KISQ-1649-3429-8169-4287

NORAD ID

26702

Website

Operator

Country of Origin

Sweden
Status
Operational
Satellite is in orbit and operational
Image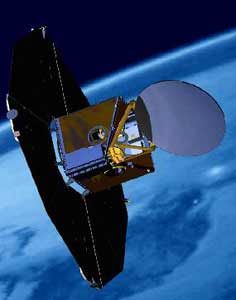 Mission timeline
Launch Date

2001-02-20T00:00:00+00:00
Description
Swedish infrared astronomy satellite. Odin was a Swedish dual disciplinary (astrophysics and atmospheric science) spacecraft. The 250 kg, 340 W spacecraft had a pointing accuracy of 15 arc sec and a data storage capacity of 100 MB. Science, astronomy and aeronomy satellite for SSC, Sweden. Launched 2001. Used Freja-C bus, 4 solar arrays, sunshade, 3-axis stabilzed. Status: Operational 2001. First Launch: 2001-02-20. Last Launch: 2001-02-20. Number: 1 . Gross mass: 250 kg (550 lb).
It carried a cryogenic radiometer to monitor three millimeter-bands at 118.25-119.25, 486.1-503.9, and 541.0-580.4 GHz, at a resolution of 0.1-1.0 MHz. It carried also a cryogenic optical spectrometer to cover three visible and infrared bands at 280-800 nm, and another infrared band at 1,270 nm. The target gases of astrophysical interest were carbon iodide (CI), water vapor, hydrogen sulfide, ammonia and a few others. For atmospheric studies, the gases were chlorine monoxide, nitrous oxide, nitrogen dioxide, hydrogen peroxide, nitrous oxide, nitric acid, and a few others. Both instruments were fed by a 1.1 meter Gregorian telescope.
Electric System: 0.34 average kW.
Type

Transmitter

Service

Space Research

Downlink Mode

QPSK

Downlink Frequency

2208139000

Baud

720000
Type

Transmitter

Downlink Mode

BPSK

Downlink Frequency

2265154000

Baud

500000

Unconfirmed

Yes
Most Recent Observers
| Observer | Latest Data |
| --- | --- |
| HB9FXX S-Band-JN36hp | 2023-11-07 06:08:07 UTC |
Data Frames Decoded - 30 Days
There is no decoded data for this satellite in the last 30 days.
No Decoders Found
Help us develop a decoder, you can find instructions at this wiki link
Orbital Elements
Latest Two-Line Element (TLE)
TLE Source

Celestrak (SatNOGS)
TLE Updated

2023-12-03 21:11:03 UTC
TLE Set

1 26702U 01007A   23337.60906790  .00009114  00000+0  45530-3 0  9994
2 26702  97.4955 349.2722 0006796 240.7491 119.3064 15.17678304247045
No Satellite Suggestions Found