Mission information
Name

TYVAK-0130

Alternate Names

TYVAK 0130

Satellite ID

KSSW-6265-7790-8248-7471

NORAD ID

48606

Country of Origin

United States of America
Status
Operational
Satellite is in orbit and operational
Image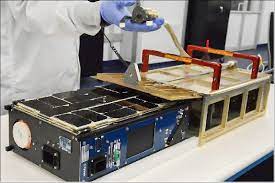 Mission timeline
Launch Date

2021-05-15T00:00:00+00:00
Description
Tyvak-0130 is an optical spectrum astronomical technology demonstration satellite built by Tyvak on the CubeSat (6U) form factor. The technology was developed by Tyvak NanoSatellite Systems and the Lawrence Livermore National Laboratory under a four-year agreement to advance compact telescopes for commercial applications.
Type

Transmitter

Downlink Mode

FM

Downlink Frequency

400780500
Most Recent Observers
| Observer | Latest Data |
| --- | --- |
| SP7THR-UHF-KO10an | 2022-05-23 07:40:06 UTC |
Data Frames Decoded - 30 Days
There is no decoded data for this satellite in the last 30 days.
No Decoders Found
Help us develop a decoder, you can find instructions at this wiki link
Orbital Elements
Latest Two-Line Element (TLE)
TLE Source

Space-Track.org
TLE Set

1 48606U 21041BF  22143.03208153  .00005192  00000-0  45611-3 0  9993
2 48606  53.0314 267.3994 0013579 333.4861  26.5428 14.98011410 55742
No Satellite Suggestions Found