Mission information
Name

NEE-02 KRYSAOR

Alternate Names

NEE-02

Satellite ID

KUWT-6327-2943-5724-0911

NORAD ID

39441
Status
Operational
Satellite is in orbit and operational
Image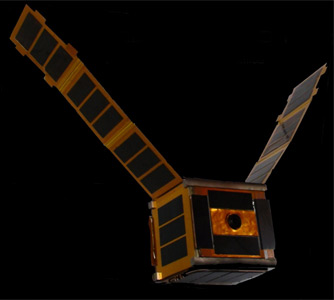 Description
Ecuador's second Cubesat similar to NEE 01 Pegaso but with alternative solar power. It has technology demonstrations as well as video transmission.
No approved transmitters yet for this Satellite. Help us improve our database, you can find instructions at this wiki link
Most Recent Observers
No observations recorded for NEE-02 KRYSAOR
Data Frames Decoded - 30 Days
There is no decoded data for this satellite in the last 30 days.
No Decoders Found
Help us develop a decoder, you can find instructions at this wiki link
Orbital Elements
Latest Two-Line Element (TLE)
TLE Source

Celestrak (active)
TLE Set

1 39441U 13066AB  22024.83001303  .00000453  00000+0  70853-4 0  9993
2 39441  97.7181 345.9014 0079736 249.6162 109.6470 14.75376654438857
No Satellite Suggestions Found