Mission information
Name

BRITE-PL

Alternate Names

LEM

Satellite ID

LSAZ-0698-4857-0580-9788

NORAD ID

39431
Status
Operational
Satellite is in orbit and operational
Image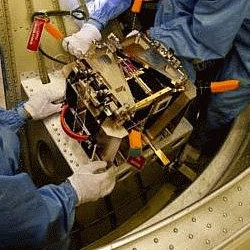 Description
BRIght-star Target Explorer - Poland (BRITE-PL) is designed to make photometric observations of bright stars similar to the previous BRITE missions through a Polish consortium.
No approved transmitters yet for this Satellite. Help us improve our database, you can find instructions at this wiki link
Most Recent Observers
No observations recorded for BRITE-PL
Data Frames Decoded - 30 Days
There is no decoded data for this satellite in the last 30 days.
No Decoders Found
Help us develop a decoder, you can find instructions at this wiki link
Orbital Elements
Latest Two-Line Element (TLE)
TLE Source

Space-Track.org
TLE Set

1 39431U 13066R   22024.84477775  .00000147  00000-0  41972-4 0  9994
2 39431  97.7196 251.1484 0200966 313.8246  44.6483 14.47218996431598
No Satellite Suggestions Found