Mission information
Name

VELOX 1

Satellite ID

MBWN-8482-2114-9688-9106

NORAD ID

40057
Status
Operational
Satellite is in orbit and operational
Image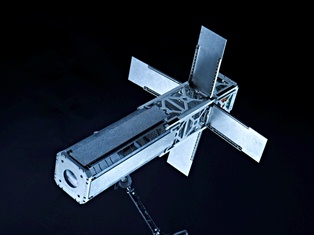 Description
Along with its sub satellite Velox-P3. This is an educational hand on teaching satellite with technology demonstrations on board that include 20m ground resolution imaging systems as well as inter satellite communications systems.
Type

Transmitter

Downlink Mode

CW

Downlink Frequency

145980000
Most Recent Observers
No observations recorded for VELOX 1
Data Frames Decoded - 30 Days
There is no decoded data for this satellite in the last 30 days.
No Decoders Found
Help us develop a decoder, you can find instructions at this wiki link
Orbital Elements
Latest Two-Line Element (TLE)
TLE Source

Celestrak (SatNOGS)
TLE Updated

2023-03-23 00:50:04 UTC
TLE Set

1 40057U 14034E   23081.82219557  .00006414  00000+0  83242-3 0  9997
2 40057  98.3735 270.9878 0010796 156.7107 203.4595 14.81085399470641
No Satellite Suggestions Found