Mission information
Name

CSSWE

Satellite ID

MQNS-3492-8312-7376-9692

NORAD ID

38761

Website

Country of Origin

United States of America
Status
Operational
Satellite is in orbit and operational
Image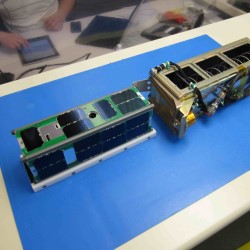 Description
The Colorado Student Space Weather Experiment (CSSWE) is an NSF-funded 3U CubeSat (30×10×10 cm) which houses an energetic particle telescope.
Its primary objective is to measure the directional differential flux of Solar Energetic Protons (SEPs) and Earth's radiation belt electrons.
Type

Transmitter

Service

Amateur

Downlink Mode

FSK AX.25 G3RUH

Downlink Frequency

437349000

Baud

9600

IARU Coordination
Most Recent Observers
No observations recorded for CSSWE
Data Frames Decoded - 30 Days
There is no decoded data for this satellite in the last 30 days.
No Decoders Found
Help us develop a decoder, you can find instructions at this wiki link
No Satellite Suggestions Found