Mission information
Name

Birkeland

Alternate Names

Milspace2-1, ex BROS 1.

Satellite ID

MXLF-5468-2040-9772-6013

NORAD ID

55015

Website

Countries of Origin

Netherlands

Norway
Status
Operational
Satellite is in orbit and operational
Image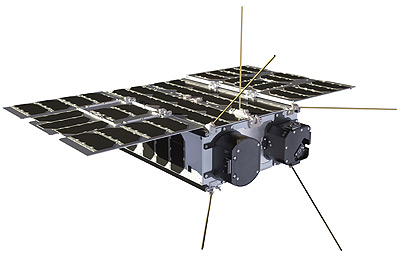 Mission timeline
Launch Date

2023-01-03T14:57:00+00:00
Description
The MilSpace2 (formerly BROS (Binational Radiofrequency Observing Satellites)) satellies, named Birkeland and Hyugens, are a pair of Norwegian and Dutch nanosatellites for researching, which are operated by a consortium consisting of consists of the Norwegian Defence Research Establishment (FFI), the Royal Netherlands Aerospace Centre (NLR) and Netherlands Organisation for Applied Scientific Research (TNO).
The consortium selected satellite integrator NanoAvionics to build two nanosatellites in April 2020. The purchase order is part of a military use of space (MilSpace) project under a bilateral strategic mutual assistance in research and technology (SMART) memorandum of understanding (MoU). The two nanosatellites are intended to demonstrate the concept of a space based spectrum monitoring system to geolocate radar signals. It is the first time for Norway and the Netherlands to launch a formation of satellites.
The MilSpace2 mission is the first known two-satellite system to detect, classify, and accurately geolocate Radio Frequency signals, including navigation radars used on ships, by combining the measurement angle of arrival (AoA) and time difference of arrival (TDOA). Simultaneous detection of pulsed radio signals by both satellites flying in tandem enables accurate geolocation during all weather conditions.
Type

Transmitter

Service

Radiolocation

Downlink Mode

FM

Downlink Frequency

401500000
Type

Transmitter

Service

Radiolocation

Downlink Mode

BPSK

Downlink Frequency

2207000000

Baud

512000
Type

Transmitter

Downlink Mode

BPSK

Downlink Frequency

2206500000

Baud

128000
Most Recent Observers
| Observer | Latest Data |
| --- | --- |
| Drachten S-band-JO33bc | 2023-09-22 19:38:27 UTC |
| SA2KNG S-Band-KP03cu | 2023-09-19 09:34:05 UTC |
| PE2BZ-Odroid-S-band-JO22ca | 2023-09-14 18:31:27 UTC |
| TUDSaT Rotator-JN49iu | 2023-07-15 08:17:27 UTC |
| SA2KNG Alt/Az-KP03cu | 2023-06-22 08:47:10 UTC |
Data Frames Decoded - 30 Days
There is no decoded data for this satellite in the last 30 days.
No Decoders Found
Help us develop a decoder, you can find instructions at this wiki link
Orbital Elements
Latest Two-Line Element (TLE)
TLE Source

Space-Track.org
TLE Updated

2023-09-24 23:31:55 UTC
TLE Set

1 55015U 23001G   23267.72005814  .00012040  00000-0  61026-3 0  9994
2 55015  97.4728 325.7415 0010834  43.5258 316.6828 15.17058984 40135
No Satellite Suggestions Found