Mission information
Name

QBUA01

Alternate Names

PolyItan HP-30

Satellite ID

OPLW-1406-2652-7673-4190

Temporary NORAD ID

99203

Followed NORAD ID

55080

Website

Country of Origin

Ukraine
Status
Operational
Satellite is in orbit and operational
Image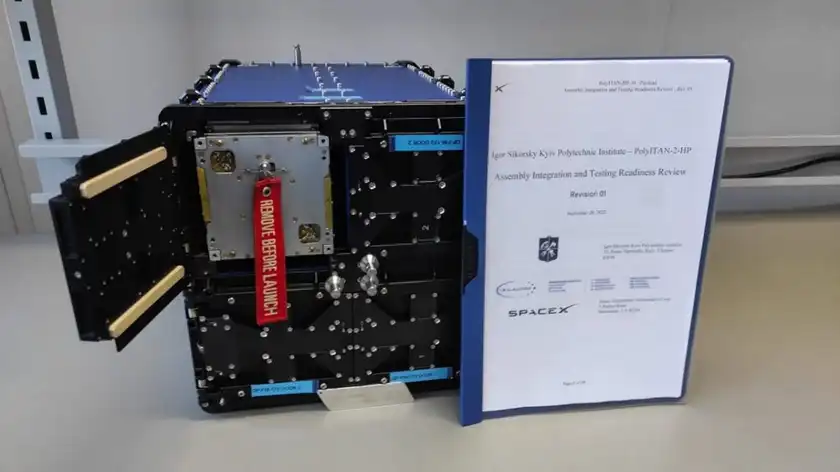 Mission timeline
Launch Date

2023-01-03T14:56:00+00:00
Description
A 2U CubeSat. QBUA01 is a project driven by Kiev National University -Igor Sikorsky Kyiv Polytechnic Institute. Mission is to launch Ukrainian educational satellite build by KPI students and space exploration enthusiasts for solving a number of educational, scientific and technological university problems. Specific mission targets are: - construction and launch of a nanosatellite to test advanced space technologies, study the available capabilities and find new tasks for the development of near space - study of the operation of solar sensors, GPS / Glonass receiver, magnetometers, gyroscopes, electromagnets and flywheel in the system of orientation and stabilization in space - study of thermal regulation of a local heat source based on MICRO-heat pipes in low orbit - a new space experiment on thermal regulation of the payload on heat pipes; - testing the operation of new software to control satellite systems and obtain telemetry by the ground station. Amateur operators around the world will be able to participate in the mission by receiving satellite telemetry, beacon and science payload data on the mission QBUA01 micro heat pipe Establish cooperation between educational institute, space agency(s) and various government authorities, HAM radio community.
Type

Transmitter

Downlink Mode

BPSK

Downlink Frequency

436600000

Baud

9600

IARU Coordination
Type

Transmitter

Downlink Mode

FM

Downlink Frequency

436025000

Unconfirmed

Yes
Type

Transmitter

Downlink Mode

FSK AX.25 G3RUH

Downlink Frequency

437675000

Baud

1200
Most Recent Observers
| Observer | Latest Data |
| --- | --- |
| KB9JHU-EM69uf | 2023-01-18 03:20:21 UTC |
| M0GLU-IO91vc | 2023-01-13 09:51:58 UTC |
| VZLU-PRG-JO70gd | 2023-01-13 09:42:36 UTC |
| VK6SAT - UHF-OF78vf | 2023-01-06 13:34:29 UTC |
| LU1KCQ Home-FG73ie | 2023-01-06 02:27:33 UTC |
Data Frames Decoded - 30 Days
There is no decoded data for this satellite in the last 30 days.
No Decoders Found
Help us develop a decoder, you can find instructions at this wiki link
Orbital Elements
Latest Two-Line Element (TLE)
TLE Source

Celestrak (active)
TLE Updated

2023-12-10 17:12:09 UTC
TLE Set

1 55080U 23001BZ  23344.48411653  .00007293  00000+0  31352-3 0  9999
2 55080  97.4557  42.6458 0015256 111.3356 248.9511 15.22853036 51871
No Satellite Suggestions Found