Mission information
Name

FLYING LAPTOP

Satellite ID

QPRY-7597-6127-8837-9927

NORAD ID

42831
Status
Operational
Satellite is in orbit and operational
Image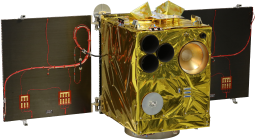 Description
Flying Laptop is a German minisatellite of the IRS (Institut für Raumfahrtsysteme) at the University of Stuttgart, Germany with a primary mission objective to demonstrate and qualify new small-satellite technologies for follow-up missions.
Flying Laptop will demonstrate a number of innovative technologies including infra-red high speed optical links. It also carries three cameras with 25 meter resolution and an S-Band down link for near real time observations
Type

Transmitter

Downlink Mode

BPSK

Downlink Frequency

2263500000

Baud

128000
Data Downlink System (DDS)
Type

Transmitter

Service

Amateur

Downlink Mode

QPSK

Downlink Frequency

2408000000

Baud

5000000
Most Recent Observers
| Observer | Latest Data |
| --- | --- |
| PE2BZ-S-Band-JO22ca | 2021-05-22 19:38:57 UTC |
| HB9FXX S-Band-JN36hp | 2021-03-16 08:54:56 UTC |
Data Frames Decoded - 30 Days
There is no decoded data for this satellite in the last 30 days.
No Decoders Found
Help us develop a decoder, you can find instructions at this wiki link
Orbital Elements
Latest Two-Line Element (TLE)
TLE Source

Celestrak (SatNOGS)
TLE Set

1 42831U 17042G   21262.76480538  .00000007  00000-0  59229-5 0  9995
2 42831  97.4565 127.4776 0013639 186.4892 173.6163 14.91345797227749
No Satellite Suggestions Found