Mission information
Name

STARS

Alternate Names

KUKAI-GENNAI mother and daughter

Satellite ID

RCSI-2248-9538-7513-4618

NORAD ID

33498
Status
Operational
Satellite is in orbit and operational
Image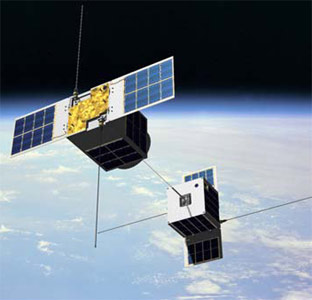 Description
Stars is part of a pair of satellites built by Kagawa university. The two satellites are tethered with synthetic fibre, and a camera is built into the smaller unit used to photograph the unit in space. The purpose is to demonstrate the potential for external surveying of a space station.
Type

Transmitter

Downlink Mode

CW

Downlink Frequency

437273000
Most Recent Observers
No observations recorded for STARS
Data Frames Decoded - 30 Days
There is no decoded data for this satellite in the last 30 days.
No Decoders Found
Help us develop a decoder, you can find instructions at this wiki link
Orbital Elements
Latest Two-Line Element (TLE)
TLE Source

Celestrak (SatNOGS)
TLE Updated

2023-03-23 00:50:02 UTC
TLE Set

1 33498U 09002G   23081.70702476  .00004235  00000+0  54788-3 0  9993
2 33498  98.1439 343.1698 0011966  75.3563 284.8974 14.81393099763026
No Satellite Suggestions Found