Mission information
Name

CICERO 8

Alternate Names

Tyvak 0076

Satellite ID

RSTX-6017-6514-0525-3722

NORAD ID

43737

Countries of Origin

Monaco

United States of America
Status
Operational
Satellite is in orbit and operational
Image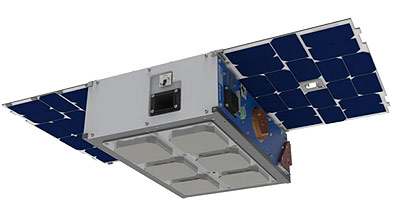 Mission timeline
Launch Date

2018-11-29T00:00:00+00:00
Description
CICERO (Community Initiative for Cellular Earth Remote Observation) is a constellation of 24+low-Earth Orbiting (LEO) micro-satellites for performing GPS and Galileo radio occultation (GNSS-RO) of Earth's atmosphere and surface remote sensing by GNSS reflection. They are operated by GeoOptics.
Type

Transmitter

Downlink Mode

GMSK

Downlink Frequency

401120000

Baud

9600
Most Recent Observers
No observations recorded for CICERO 8
Data Frames Decoded - 30 Days
There is no decoded data for this satellite in the last 30 days.
No Decoders Found
Help us develop a decoder, you can find instructions at this wiki link
Orbital Elements
Latest Two-Line Element (TLE)
TLE Source

Space-Track.org
TLE Updated

2023-02-06 16:55:10 UTC
TLE Set

1 43737U 18096U   23037.49269693  .00085806  00000-0  12980-2 0  9990
2 43737  97.3369 129.7318 0013433 278.1663  81.8067 15.54293628234409
No Satellite Suggestions Found