Mission information
Name

CHUBUSAT-3

Alternate Names

JJ2YPO

Satellite ID

SNUE-9194-2671-9117-0557

NORAD ID

41339

Website

Country of Origin

Japan
Status
Operational
Satellite is in orbit and operational
Image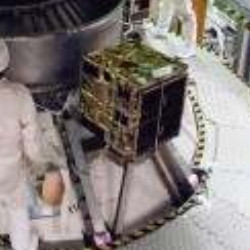 Mission timeline
Launch Date

2016-02-17T00:00:00+00:00
Description
Small satellite from Nagoya and Daido Universities to measure solar and Earth radiation and undertake imaging of the Earth with an infrared camera. It also carries a receiver for the Automatic Information System (AIS) to pick up positional and other information from ships at sea, and an amateur radio message relay system.
Type

Transmitter

Downlink Mode

CW

Downlink Frequency

437423000
Type

Transmitter

Downlink Mode

GMSK

Downlink Frequency

437425000

Baud

9600
Message Exchange Service Uplink
Type

Transceiver

Downlink Mode

AFSK

Baud

1200

Uplink Mode

AFSK

Uplink Frequency

145840000
Most Recent Observers
No observations recorded for CHUBUSAT-3
Data Frames Decoded - 30 Days
There is no decoded data for this satellite in the last 30 days.
No Decoders Found
Help us develop a decoder, you can find instructions at this wiki link
Orbital Elements
Latest Two-Line Element (TLE)
TLE Source

Space-Track.org
TLE Updated

2023-04-01 22:50:12 UTC
TLE Set

1 41339U 16012C   23091.80651583  .00005969  00000-0  42353-3 0  9990
2 41339  31.0133 342.9062 0011887 145.9944 287.1819 15.03249991390876
No Satellite Suggestions Found