Mission information
Name

AAUSAT 3

Satellite ID

SPZX-9367-0355-8865-6645

NORAD ID

39087
Status
Operational
Satellite is in orbit and operational
Image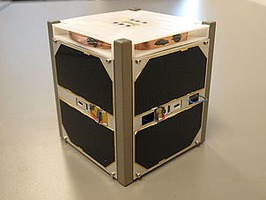 Description
Another small satellite from the University of Aalborg in Denmark with its purpose to teach advanced level students design and construction of space technology.
Type

Transmitter

Downlink Mode

CW

Downlink Frequency

437425000
Most Recent Observers
No observations recorded for AAUSAT 3
Data Frames Decoded - 30 Days
There is no decoded data for this satellite in the last 30 days.
No Decoders Found
Help us develop a decoder, you can find instructions at this wiki link
Orbital Elements
Warning: There is at least one newer non-redestributable TLE set.
Latest Two-Line Element (TLE)
TLE Source

Space-Track.org
TLE Updated

2023-03-22 16:50:02 UTC
TLE Set

1 39087U 13009B   23081.50394882  .00001456  00000-0  50911-3 0  9998
2 39087  98.3844 278.9032 0012711 153.5889 206.5949 14.36616873527494
No Satellite Suggestions Found