Mission information
Name

HORYU 2

Satellite ID

TPCO-2105-7722-5722-6250

NORAD ID

38340
Status
Operational
Satellite is in orbit and operational
Image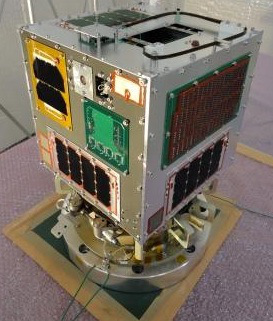 Description
Kyushu Institute of technology students developed this satellite for high voltage solar array testing.
Type

Transmitter

Downlink Mode

CW

Downlink Frequency

437372000
Most Recent Observers
No observations recorded for HORYU 2
Data Frames Decoded - 30 Days
There is no decoded data for this satellite in the last 30 days.
No Decoders Found
Help us develop a decoder, you can find instructions at this wiki link
Orbital Elements
Warning: There is at least one newer non-redestributable TLE set.
Latest Two-Line Element (TLE)
TLE Source

Celestrak (SatNOGS)
TLE Updated

2023-03-22 10:50:06 UTC
TLE Set

1 38340U 12025D   23081.21780816  .00003855  00000+0  54150-3 0  9993
2 38340  98.1713 168.6240 0011801  61.9454 298.2948 14.77965815583658
No Satellite Suggestions Found