Mission information
Name

TISAT 1

Satellite ID

TSLM-4078-5089-9909-4945

NORAD ID

36799
Status
Operational
Satellite is in orbit and operational
Image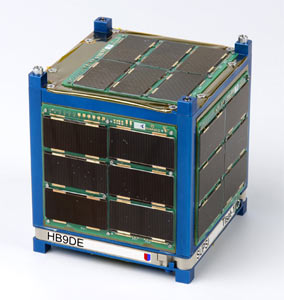 Description
A low cost Swiss student developed cubesat with a mission that includes monitoring of the durability of exposed thin bonding wires, PCB tracks and lines (atomic Oxygen effects), verification of the system fault tolerance scheme, acquisition of spacecraft environment and operating data.
Type

Transmitter

Downlink Mode

CW

Downlink Frequency

437305000

Baud

21
Most Recent Observers
No observations recorded for TISAT 1
Data Frames Decoded - 30 Days
There is no decoded data for this satellite in the last 30 days.
No Decoders Found
Help us develop a decoder, you can find instructions at this wiki link
Orbital Elements
Warning: There is at least one newer non-redestributable TLE set.
Latest Two-Line Element (TLE)
TLE Source

Celestrak (SatNOGS)
TLE Updated

2022-12-07 05:23:23 UTC
TLE Set

1 36799U 10035E   22340.79504895  .00002776  00000+0  26717-3 0  9998
2 36799  98.1592 197.9420 0010399 248.3989 111.6122 14.93829514673485
No Satellite Suggestions Found