Mission information
Name

URESAT-1

Alternate Names

UreSat-1 / Hades-B

Satellite ID

UDZO-6677-3907-8516-6750

NORAD ID

56992

Website

Country of Origin

Spain
Status
Operational
Satellite is in orbit and operational
Image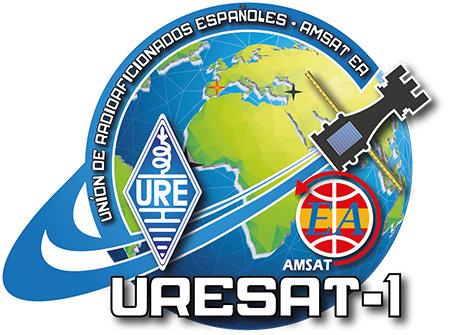 Mission timeline
Launch Date

2023-06-12T00:00:00+00:00

Deploy Date

2023-06-22T00:00:00+00:00
Description
URESAT-1 (HADES-B ITU designation) is a 1.5 P Pocketqube mission which will offer licensed radio-amateur around the world the opportunity to relay FM voice and AX.25 / APRS 300/1200 bps communications. This will be achieved by implementing a SDR based FM and FSK repeater. More info at https://www.amsat-ea.org/ A downlink on 436.888 MHz and an uplink on 145.975 MHz have been coordinated A SSTV camera module by Brno University is expected to fly depending on time restrictions. Images would be taken in a random way. The SSTV module would contain some ROM coded images to be transmitted as well. URESAT hardware and software subsystems are enhanced ones of the previous AMSAT-EA HADES satellite mission launched with SpaceX on Transporter-3 mission on January 3, 2022. Proposing a UHF downlink for a V/U FM voice repeater and beacon plus FSK, AFSK and APRS telemetry plus a CW beacon. Planning a launch into a 525km polar orbit with SpaceX in December 2022 managed by Exolaunch/Alba Orbital.
Type

Transmitter

Service

Amateur

Downlink Mode

CW

Downlink Frequency

436888000

Downlink Drifted

-5493

IARU Coordination
Type

Transceiver

Service

Amateur

Downlink Mode

FM

Downlink Frequency

436888000

Uplink Mode

FM

Uplink Frequency

145975000

IARU Coordination
Most Recent Observers
| Observer | Latest Data |
| --- | --- |
| PI9CAM-JO32et | 2023-09-14 11:55:23 UTC |
| test-KP50ea | 2023-08-04 11:55:33 UTC |
| VK5KJP-UHF-PF95gd | 2023-07-31 03:33:33 UTC |
| W2MMD GCARC Clubhouse-FM29jr | 2023-07-25 05:27:48 UTC |
| EA5WA Pobla Llarga-IM99sc | 2023-07-19 00:12:29 UTC |
Data Frames Decoded - 30 Days
There is no decoded data for this satellite in the last 30 days.
No Decoders Found
Help us develop a decoder, you can find instructions at this wiki link
Orbital Elements
Latest Two-Line Element (TLE)
TLE Source

Celestrak (SatNOGS)
TLE Updated

2023-09-25 21:31:42 UTC
TLE Set

1 56992U 23084BU  23268.57409935  .00025136  00000+0  13705-2 0  9995
2 56992  97.5136  23.5540 0016965 229.5868 130.3884 15.14241025 15828
No Satellite Suggestions Found