Mission information
Name

PolarCube

Satellite ID

UPYV-1893-8615-3800-1874

NORAD ID

47310

Website

Country of Origin

United States of America
Status
Decayed
Satellite has re-entered
Image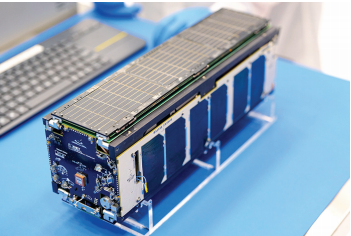 Mission timeline
Launch Date

2021-01-17T19:19:25+00:00

Deploy Date

2021-01-17T19:19:27+00:00

Decay Date

2023-06-06T00:00:00+00:00
Description
PolarCube is a scientific investigation mission to determine sea ice concentration and extent while collecting profile data on atmospheric temperature. It will collect brightness temperature spectra at high spatial resolution at a very low cost for remote sensing science and technology evaluation. It will correlate freeze-thaw ice data from SMAP, an Earth-observation satellite launched in 2015, with atmospheric temperature data. The passive microwave sensor will provide a template for future development of small satellite-borne passive microwave atmospheric sensors for collecting data on temperature, moisture, precipitation, cloud water and ice, and cryospheric surface features such as snow cover and sea ice concentration.
Beacon doc: https://gitlab.com/polarcube/polarcube-beacon-documentation
Mode U - FSK4k8 - Cesium-3
Type

Transmitter

Service

Earth Exploration

Downlink Mode

FSK

Downlink Frequency

401365000

Baud

4800
Most Recent Observers
| Observer | Latest Data |
| --- | --- |
| YC2SAT_test-OI52ex | 2021-01-22 15:41:11 UTC |
Data Frames Decoded - 30 Days
There is no decoded data for this satellite in the last 30 days.
No Decoders Found
Help us develop a decoder, you can find instructions at this wiki link
No Satellite Suggestions Found