Mission information
Name

TJ3SAT

Satellite ID

XJVV-5632-8590-3325-8137

NORAD ID

39385
Status
Decayed
Satellite has re-entered
Image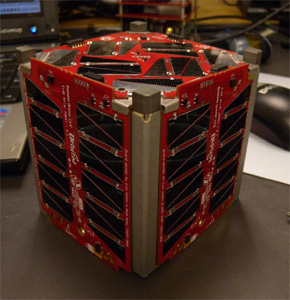 Mission timeline
Decay Date

2015-09-17T00:00:00+00:00
Description
Designed by high school students this satellite was part of the ELaNA program that was to transmit basic telemetry data as part of an educational outreach programme. After launch no signals were detected. It reentered Earth's atmosphere on 16th September 2015.
No approved transmitters yet for this Satellite. Help us improve our database, you can find instructions at this wiki link
Most Recent Observers
No observations recorded for TJ3SAT
Data Frames Decoded - 30 Days
There is no decoded data for this satellite in the last 30 days.
No Decoders Found
Help us develop a decoder, you can find instructions at this wiki link
No Satellite Suggestions Found