Mission information
Name

BRITE-AUSTRIA

Alternate Names

BRITE-Austria CANX-3B

Satellite ID

XNCA-6781-8639-7113-1665

NORAD ID

39091
Status
Operational
Satellite is in orbit and operational
Image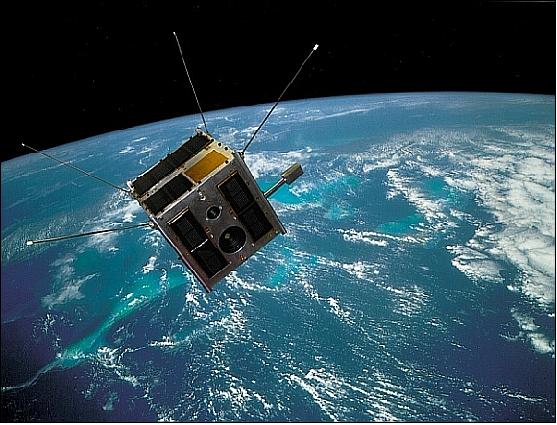 Description
The scientific goal of this nanosatellite mission is the investigation of the brightness oscillations of massive luminous stars by differential photometry. The scientific instrument is an optical camera with a high-resolution CCD to take images from distant stars with magnitude of 3.5.
No approved transmitters yet for this Satellite. Help us improve our database, you can find instructions at this wiki link
Most Recent Observers
No observations recorded for BRITE-AUSTRIA
Data Frames Decoded - 30 Days
There is no decoded data for this satellite in the last 30 days.
No Decoders Found
Help us develop a decoder, you can find instructions at this wiki link
Orbital Elements
Latest Two-Line Element (TLE)
TLE Source

Celestrak (SatNOGS)
TLE Set

1 39091U 13009F   22024.53237257  .00000028  00000+0  24722-4 0  9999
2 39091  98.4115 225.4950 0010323 353.4149   6.6899 14.35223508466789
No Satellite Suggestions Found