Mission information
Name

ORBCOMM FM 36

Satellite ID

YXEA-0000-2058-5722-9282

NORAD ID

25984

Country of Origin

United States of America
Status
Operational
Satellite is in orbit and operational
Image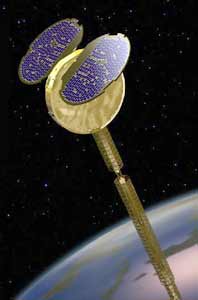 Description
Orbcomm is a commercial global wireless data and messaging system. The Orbcomm System uses low-Earth orbit (LEO) satellites to provide cost-effective tracking, monitoring and messaging capabilities to and from anywhere in the world. The Orbcomm constellation consists of up to 36 small communications satellites in orbit 825 kilometers above the Earth. The satellites act as "orbiting packet routers" built to "grab" small data packets from ground sensors or communicators and relay them through a ground station.
Type

Transmitter

Downlink Mode

CW

Downlink Frequency

400100000
Type

Transmitter

Service

Mobile

Downlink Mode

DQPSK

Downlink Frequency

137440000

Baud

50000
Most Recent Observers
No observations recorded for ORBCOMM FM 36
Data Frames Decoded - 30 Days
There is no decoded data for this satellite in the last 30 days.
No Decoders Found
Help us develop a decoder, you can find instructions at this wiki link
Orbital Elements
Latest Two-Line Element (TLE)
TLE Source

Celestrak (active)
TLE Updated

2023-02-07 00:55:03 UTC
TLE Set

1 25984U 99065E   23037.75324281  .00001146  00000+0  45888-3 0  9991
2 25984  45.0369 197.4047 0002131 282.4575  77.6033 14.33791789211214
No Satellite Suggestions Found