Mission information
Name

NSL-2

Alternate Names

NSL 2, NSLSat-2

Satellite ID

ZVIO-0893-8720-4254-3996

NORAD ID

55067

Website

Country of Origin

Israel
Status
Operational
Satellite is in orbit and operational
Image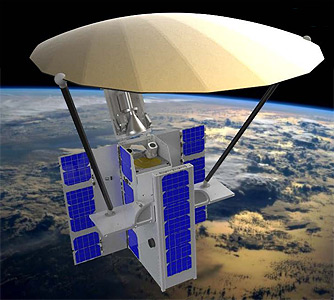 Mission timeline
Launch Date

2023-01-03T14:56:00+00:00
Description
The NSLSat 2 is a 6U CubeSat pathfinder mission for NSLComm's planned high throughput Cubesat constellation.
NSLSat-1 will test a new kind of expandable and flexible spacecraft antenna to offer data rates up to 100 times more than current nanosats. Designed to accommodate the deployment of a nonrigid reflector that is bigger than any other antenna, the NSLSat-2 will deliver deliver high-capacity footprints up to 1 Gbps and elevate LEO capabilities for a wide range of applications from narrowband to end-to-end constellations facilitating robust commercial and government applications.
NSLComm's reflector folds up into just 2U (two liters) of space inside a specially designed nanosat and once in orbit it pops out to an unparalleled size that translates into super high bandwidth. In addition, NSLSat-1 incorporates a flexible subreflector that optimizes and shapes the antenna's footprint to ensure payload flexibility that can change on the fly while deployed in LEO orbit.
The 6U CubeSat is being built by AAC Clyde Space.
Type

Transmitter

Downlink Mode

FM

Downlink Frequency

2245000000
Type

Transmitter

Downlink Mode

FM

Downlink Frequency

401355000
Type

Transmitter

Downlink Mode

PSK31

Downlink Frequency

401199531
Most Recent Observers
| Observer | Latest Data |
| --- | --- |
| PE0SAT-JO21mr | 2023-02-11 06:55:40 UTC |
Data Frames Decoded - 30 Days
There is no decoded data for this satellite in the last 30 days.
No Decoders Found
Help us develop a decoder, you can find instructions at this wiki link
Orbital Elements
Latest Two-Line Element (TLE)
TLE Source

Celestrak (active)
TLE Updated

2023-09-29 09:09:04 UTC
TLE Set

1 55067U 23001BL  23271.98132002  .00036640  00000+0  14019-2 0  9994
2 55067  97.4707 331.9745 0011808  10.9920 349.1574 15.26415403 40918
No Satellite Suggestions Found