Mission information
Name

STORK-3

Satellite ID

JWSU-6284-1667-7528-7658

NORAD ID

51098

Country of Origin

Poland
Status
Operational
Satellite is in orbit and operational
Image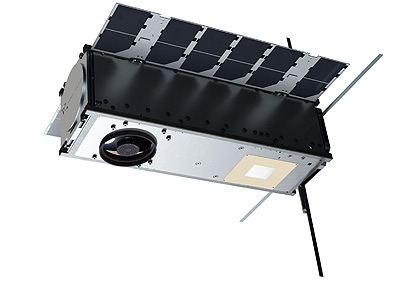 Mission timeline
Launch Date

2022-01-13T00:00:00+00:00
Description
STORK is a Polish Cubesat constellation for earth observation and technology testing built by SatRelvolution.
The STORK 3U CubeSats features SatREvolutions's Vision-300 imager with a ground resolution of up to 5 m.
The remaining 2U of the satellite are available to host technology payloads by other customers.
The STORK constellations is to consist of 14 satellites.
Type

Transmitter

Downlink Mode

FM

Downlink Frequency

401100000
Most Recent Observers
No observations recorded for STORK-3
Data Frames Decoded - 30 Days
There is no decoded data for this satellite in the last 30 days.
No Decoders Found
Help us develop a decoder, you can find instructions at this wiki link
Orbital Elements
Latest Two-Line Element (TLE)
TLE Source

Space-Track.org
TLE Updated

2023-08-27 09:31:08 UTC
TLE Set

1 51098U 22003E   23239.20879409  .13317151  10207-4  19645-2 0  9991
2 51098  44.9391 148.3984 0012869 215.7803 262.9058 16.33238143 90942
Name

STORK-3

NORAD ID

51098

Alternative Names

merge into https://db.satnogs.org/satellite/KARP-2761-1393-9199-4102

Description

STORK is a Polish Cubesat constellation for earth observation and technology testing built by SatRelvolution. The STORK 3U CubeSats features SatREvolutions's Vision-300 imager with a ground resolution of up to 5 m. The remaining 2U of the satellite are available to host technology payloads by other customers. The STORK constellations is to consist of 14 satellites.

image

status

alive

countries

launched

Jan. 13, 2022, midnight